What I learned making the switch from mommy marketer to mommy consumer
(Read article summary)
Moms are a marketers dream. Lane Brown would know. She once worked full-time getting baby-toting women to buy, buy, buy. But now she's a stay-at-home-mom. The hunter has become the hunted.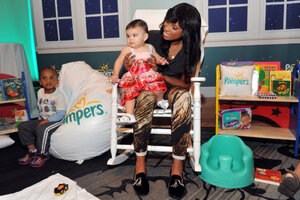 Invision
"Treat yourself." "Indulge in something for you." "You deserve a break."
I am pretty sure I have used one, maybe even all three of these phrases combined in promotional e-mail pitches to mommy bloggers. I've tried desperately to convince them that moms deserve better. Like an iced-vanilla-caramel latte kind of better.
Over the course of my career in public relations I have spent hundreds of hours crafting pitches to mommy bloggers, hawking coffee, dog treats, and online search directory sites, among other things.
As a marketer, I feel a little guilty for my role in trying to convince moms to spend money on stuff they don't necessarily need, pursuing their expendable income by pandering to their mommy sensibilities.
Now I am a stay-at-home mom with a six-month-old son and more time than ever before to watch daytime television and check Facebook. I also have a gigantic bullseye on my back.
I have become the hunted.
I can't help but notice all of the television ads featuring women my age, who look like me, mothering their fake families.
NyQuil blames my husband for keeping the baby up with his hacking cough. Target promises that I can remain sexy and on budget while preparing cupcakes for a school bake sale. And Cheerios has me by the purse strings anytime it shows the wide-eyed toddler learning to eat Cheerios just like mom.
In the car, McDonalds tries to convince me to hit the drive thru for a McCafe without the kids, stressing the importance of taking a few moments for myself, lest I am otherwise tempted to run my minivan off the road and end it all.
Oh, and it is assumed that I now drive a minivan. Brainstorm: Here's an idea, send new parents home from the hospital with a guide to breastfeeding and financing information on a Honda Odyssey. Woohoo, this girl's still got it!
---