Baby apps claiming to educate mislead consumers, group tells FTC
Baby mobile app producers market their wares as educational, but a group yesterday filed a complaint with the FTC saying the designation is false and misleading.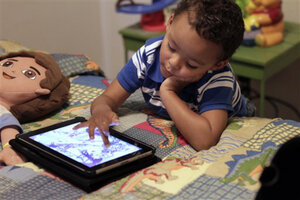 AP Photo/Gerald Herbert, File
Smartphones don't make smart babies, an advocacy group declared yesterday in a complaint to the government about mobile apps that claim to help babies learn.
The Campaign for a Commercial-Free Childhood, whose allegations against "Baby Einstein" videos eventually led to nationwide consumer refunds, is urging federal regulators to examine the marketing practices of Fisher-Price's "Laugh & Learn" mobile apps and Open Solutions' games, such as "Baby Hear and Read" and "Baby First Puzzle."
The Boston-based group says developers are trying to dupe parents into thinking apps are more educational than entertaining. It's the campaign's first complaint to the Federal Trade Commission against the mobile app industry as part of its broader push to hold businesses accountable for marketing claims about their technology to very young children and their parents.
"Everything we know about brain research and child development points away from using screens to educate babies," said Susan Linn, the group's director. "The research shows that machines and screen media are a really ineffective way of teaching a baby language. What babies need for healthy brain development is active play, hands-on creative play, and face-to-face" interaction.
---