Family road trip: El Malpais, white-knuckling through a storm, and old Route 66
(Read article summary)
The Toupin family's RV has now rambled from the southern Midwest into the fiery red deserts of the American west.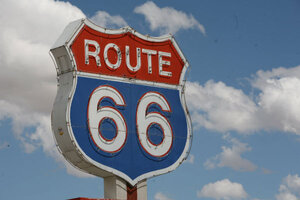 Melanie Stetston Freeman/Staff
[Editor's note: Laurie Toupin and her family are road tripping across America and sharing their experiences in a series of blogs. See the related links menu to the left for past installments.]
Arizona may have the Grand Canyon, but New Mexico has the El Malpais National Monument.
Here, the black skeletons of extinct volcanoes proudly stare down at the lava scarred landscape – huge black mesas, cinder cones, plateaus, trenches, caves and other eerie formations.
I had never heard of this place until we passed through it on Route 40 to our RV campsite in Grants, N.M. But it was breathtaking. Even the kids were impressed … which is more than I can say about the Painted Dessert or Petrified Forest National Park, both in Arizona, or any other (to me) amazing geological feature of the West.
At Lavaland Campground in Grants, Jacob, 5, found his first tumbleweed. Now he insists that his carefully collected collection of these spiky weeds sit in the RV's shower so he can take them home. We'll have to talk about this later…
There is nothing here – no playground, no pool, not even a picnic table. Yet we all had a blast biking around the area. The vistas are incredible. It is cooler here than expected, about 73 degrees. Both Maria and Colie, age 11 and 9, commented that the air smells fresh and clean.
The kids dug moats in the soft, red dirt around the few trees in the campground to help them catch the rain from the storm we saw was coming.
The view of the sky is so unobstructed here from buildings or trees that one can see for miles. We felt like we were in a fish bowl surrounded by massive cloud banks. We could hear the thunder and see the peals of lightning and the streams of rain in the mountains and mesas 360 degrees around us.
---