A pope, Tim Tebow, Georgia hero, Michele Bachmann: Unashamedly hearing God
(Read article summary)
When ex-Pope Benedict says "God told me to do it," he doesn't sound that much different than Tim Tebow, Michele Bachmann, and this week's Georgia school-shooting hero who prayed as she deflected a tragedy. How to take it seriously.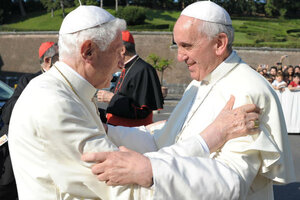 AP Photo/L'Osservatore Romano, ho
"The devil made me do it" may be the most clichéd excuse next to "the dog ate my homework." But "God made me do it?" – well that makes people flip.
If you're Tim Tebow and you say it, you're sidelined. Figuratively speaking. If you're Michele Bachmann, well ... good luck with that. Even former Pope Benedict – who ought to be hearing from God if anyone should – caused an eyebrow or two to raise when he explained this week that God had told him to resign.
But all this is silly. The mocking, when it's not done to distort the opponent and score a rhetorical point, is likely done out of a misunderstanding of religion.
Believers of all stripes have been listening for God's voice since the days of Adam and Eve. And they still do. Some come from families and denominations where God-talk flows freely and unashamedly. Many are by nature more reserved, or from more stoic, un-emotive churches where even clergy don't "talk shop" outside the building. Sometimes, God's voice, learned over time, becomes immediately clear, as to school bookkeeper Antoinette Tuff, whose prayer and trust, she said, helped bring this week's Atlanta school ordeal to a peaceful end, with the gunman, the students, and the staff all unharmed.
That's not to say it's always God who is speaking. But religions offer theology and structure which often helps those who pray distinguish among the many voices they may hear. Often, they believe that the community of faith itself helps them make choices consistent with their religious values.
---