Claude Debussy composed only in the company of his childhood porcelain frog
(Read article summary)
Claude Debussy's "Clair De Lune," featured in today's Google doodle, was composed like all of his pieces in the presence of his favorite childhood toy – a porcelain frog.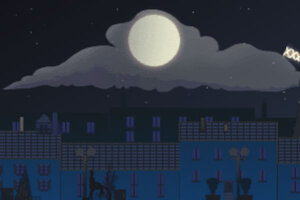 Google
Today's Google doodle celebrates the work of classical composer Claude Debussy. However, it should be parents and film buffs marking this day since Hollywood embedded his piece "Clair De Lune" as the tone-setter for everything from "The Muppets" to "Ocean's Eleven" and Edward and Bella's first "Twilight" lip-lock.
I love Debussy not only for his music, but for his backstory. His music was a beauty that rose from a bad childhood, as did mine. Also, he wrote his pieces only in the presence of his favorite childhood toy – a porcelain frog.
Debussy, born in St. Germain-en-Laye, near Paris, France, had a traumatic childhood fraught with "instability, lack of money, rebellion, hunger, fear, delusion, shame [and] defeat," of which he never spoke, according Marcel Dietschy's "A Portrait of Claude Debussy." His mother was a seamstress and his father ran a china shop.
It was the frog that first drew me to Debussy. My father was a music buff and always told the composer's story along with the music. My Canadian nanny at the time got me started collecting the little porcelain figures in the boxes of Red Rose Tea. Red Rose began to give away Wade miniature figurines 41 years ago, in 1967 when I was age two. I still collect them.
I was a New York City kid and the miniature menagerie was my idyllic imaginary countryside.
In those days our apartment rang with classical music, before my father's alcoholism became the bull in our china shop. The combination of Debussy and delicate little animals you could fit in your pocket are among the few happy memories of my father.
---