Ella Fitzgerald: Her songs became the lullabies this mom sings to her babies
(Read article summary)
Ella Fitzgerald, today's Google Doodle, didn't just sing. She crooned, she sighed, she prayed her songs – and they became lullabies for this mom, soothing her babies.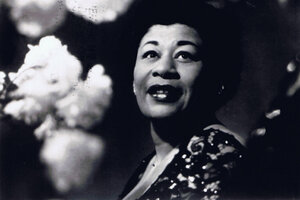 Courtesy ellafitzgerald.com
Ella Fitzgerald sang our lives into perspective with a smoky three octave voice that rose and fell during a time when we listened with our ears and not our eyes, without noting what curves her body possessed and instead fell deeply in love with her sound which still resonates across the barriers of age, time, social strata and race.
Today advertisements offer us pricey ways to become "timeless" and "flawless." Those offerings are just about keeping a wave upon the sand, whereas Ms. Fitzgerald represents the ocean of human emotion.
From a Virginian perspective I love telling kids that you can be born in nearby Newport News, as Fitzgerald was, but die in Beverly Hills, as she did in 1996.
According to her official website, "Ella Jane Fitzgerald was born in Newport News, Va. on April 25, 1917. Her father, William, and mother, Temperance (Tempie), parted ways shortly after her birth. Together, Tempie and Ella went to Yonkers, N.Y, where they eventually moved in with Tempie's longtime boyfriend Joseph Da Silva. To support the family, Joe dug ditches and was a part-time chauffeur, while Tempie worked at a laundromat and did some catering. Occasionally, Ella took on small jobs to contribute money as well. Perhaps naïve to the circumstances, Ella worked as a runner for local gamblers, picking up their bets and dropping off money."
---