Pete Seeger: Folk singer continues to connect families with music
(Read article summary)
Pete Seeger, the American folk singer, talks to TV host Stephen Colbert about two forthcoming albums, inspiring one mother to reminisce on his work and how it continues to unite her family and, she hopes, the American family.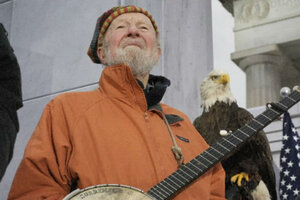 Marco Ferrero/PRNewsFoto
American folk singer Pete Seeger, still going strong at 93 with a new album coming out in September, was on the "The Colbert Report" last night. And I am making it a point to sit the kids down in front of the computer today to experience the moment when generations looked as if they would collide, but instead, merged. Because to "everything there is a season and a time to every purpose under heaven," and it's time to talk about the music the birds in our family trees sing to our children.
The reference in my opening was to Mr. Seeger's song, which he recorded in 1962, but was made popular by The Byrds the year I was born, 1965. The line from Ecclesiastes in the Bible was his – and later my – anthem about the quest for peace, equality, and civil rights, calling for patience in the face of adversity.
"A time to be born, a time to die / A time to plant, a time to reap / A time to kill, a time to heal / A time to laugh, a time to weep ... A time for love/ a time for hate/A time for peace, I swear it's not too late."
---