Baby shower etiquette: Hint, it's not about the gifts
(Read article summary)
Baby showers may bring to mind towers of pink and blue gifts, but presents should not take precedence away from the thrill and anticipation of a new baby.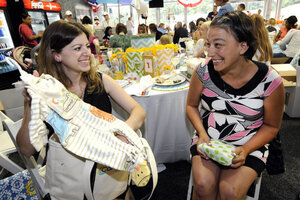 Kathy Kmonicek/Invision for Carousel Designs/AP Images
Baby showers bring to mind much oohing and awing (obligatory or genuine) as piles of pink- or blue-themed gifts are opened.
While it's true that the point of a baby shower is to give new parents gifts that will help them be prepared for their new bundle of joy, they are also about sharing the excitement a new baby brings with family and friends.
Whenever guests are expected to bring a gift, those expectations can start to become the center of attention, instead of the event the gifts are celebrating.
Here are a few ways to help keep the focus where it belongs: on the thrill and anticipation of a wonderful new baby.
While new parents don't throw their own shower (it's too much of a direct ask for presents), anyone else can host.
And though many people might associate baby showers with a group of women seated in a circle around a mom-to-be, it's fine to throw a shower for any expecting or new parent-single mom or dad, or gay or straight couples together-and the guest list can be co-ed.
This is also the case for parents who adopt, though if the adoption is for an older child, don't use baby-themed invitations. It's also a good idea to include the child's name and age on the invitation.
Keep shower guests to close friends and family.
Though a gift is expected if a guest attends, guests should only be invited to help celebrate the upcoming arrival, not for the gift they bring. If a guest is invited to a shower but can't attend, there is no obligation to send a gift, though they certainly may if they want to.
Include registry information on a separate slip of paper with the invitation, or better yet, provide it to guests who reply they will be coming. It is splitting hairs, but it keeps the focus on the guest being invited to celebrate and not just on their gift.
It's okay to have a shower for a second or third child. Originally this was frowned on, the idea being that parents would have what they need from their first child.
But in some cases it's been many years since the last child was born, or the first child was a girl and now the parents are expecting a boy.
For parents who are relatively well equipped, shower hosts might consider themes that focus on restocking basic items, or treats for mom and dad, such as a night of babysitting, coupons for take-out, massages, or movie tickets.
---