Blue Ivy steals Drake's thunder in case of mistaken identity
(Read article summary)
The Twittersphere erupted with speculation that Drake's new album cover features a portrait of Beyonce and Jay-Z's daughter Blue Ivy; Drake says 'no,' the illustration is of him as a child.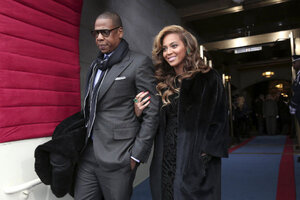 AP Photo/Win McNamee, Pool, file
Single superstar Drake is getting a taste of what it's like to be a family man by osmosis ever since fans, obsessed with Blue Ivy Carter, daughter of Beyonce and Jay-Z, decided Blue was Drake's mini-doppelganger by comparing their baby pictures. Now Drake has a new album out with cover art of a child who looks like Blue. While he insists she's is not the inspiration, as the album's title says, once there was a child in the picture, "Nothing Was The Same."
Poor Drake has learned that the baby blues of being eclipsed by a Hollywood child are not limited to the baby's parents. While his new album doesn't drop until September 24, the singer's fans were so wrapped up in Blue Ivy that the album is already launched in the wrong direction.
This little girl has given prophetic meaning to Beyonce's musical roots since she truly is, like her famous mom's former singing group of the same name, "Destiny's Child." Blue is destined to alter the life courses of mega stars just by being born. I have never seen a third party, non-parent go down with the baby ship but Drake sure looks like he needs a life ring right about now because Blue Ivy has swamped him good and proper.
Most parents experience the transition from "It's all about me" to it's all about the baby. However Blue Ivy, who is a public obsession only rivaled by Britain's new prince, has altered the trajectory of three stars: Beyonce, Jay-Z, and now Drake.
When people began asking if his cover art was "an homage to Blue Ivy Carter" Drake tried to correct the impression. The poor guy didn't stand a chance against a baby-fueled rumor and gossip mill.
People, people please, Drake isn't stalking the "royal" Beyonce baby or courting her mama. He's a typical, self-absorbed, pre-baby guy whose album cover is all about himself.
---