Robin Thicke: Unteaching misogyny: How to talk to boys about Robin Thicke
(Read article summary)
Miley Cyrus spurred a litany of online criticisms and guides for combating the not so subtle misogyny of her VMA performance with Robin Thicke this weekend leaving this youth pastor to wonder why Thicke escaped such criticism.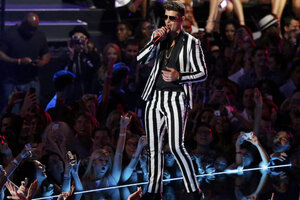 REUTERS/Lucas Jackson
If you have ears, you have heard Robin Thicke's hit "Blurred Lines." If you have had any amount of spare time in the past few days and have access to the Internet, you have heard about Mr. Thicke's performance at the VMAs with Miley Cyrus. If you have no idea what I'm talking about, congratulations! You must have looked past the headlines on CNN's main page in order to read about "secondary" news like Egypt or Syria.
If you've been on Facebook or Twitter with any kind of regularity over the past few days, you've probably heard countless friends or followers sounding off on any number of objectionable things about the performance. Undoubtedly, 99 percent of things written about it throw around words like "obscene," "offensive," and the like.
There have been a number of different parenting websites or blog posts who have come up with good ways to talk to your daughter about Miley. And, don't get me wrong, I'm all about parents talking to their daughters about sexuality. But is no one going to hold anyone else on stage or behind the scenes accountable for that performance? Are we really going to have another one-sided conversation where we only talk to the girls about their sexuality while we completely ignore the boys in the room about their standards of behavior too?
There are next to no commentaries, articles, or blog posts that talk about how Robin Thicke was on stage with a woman young enough to be his daughter while thrusting his pelvis and repeating the line, "I know you want it," while T.I. nonchalantly raps about much more graphic stuff. As Shelli Latham astutely points out:
Girls' sexuality is so much the focus of our ire. Women who have sex are dirty. Men who have sex are men. Girls who dress to be ogled are hoes. Men who ogle are just doing what comes naturally. This is the kind of reinforced behavior that makes it perfectly acceptable to legislate a woman's access to birth control and reproductive health care without engaging in balanced conversations about covering Viagra and vasectomies. Our girls cannot win in this environment, not when they are tots in tiaras, not in their teens, or when they are coming into adulthood.
---