Stride Rite: Shoes that peddle gender stereotypes
(Read article summary)
Stride Rite is a popular kids' shoe store that garners online scorn for advertising campaigns that offer girls and boys stereotypical products and shopping experiences.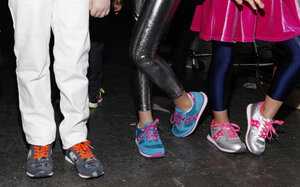 Amy Sussman/AP Images for Stride Rite Children's Group
Last April, I posted about how Stride Rite positions girls as pretty and boys as active. After seeing their in-store advertisements and reviewing their product descriptions online, I concluded that according to Stride Rite, girls are meant to be looked at, so their play shoes are a route to prettiness, while boys are meant to be active, so their play shoes are made for play.
Last week, while doing some back-to-school shopping with her young daughters, Margot Magowan of Reel Girl encountered similar advertising at her local Stride Rite store in San Francisco. She was deeply disappointed in how the brand perpetuated the idea that girls are dramatically different from boys–sparkling princesses versus powerful fighters. And she linked back to my post from last year to offer context, showing that Stride Rite's hyper-gendered marketing is business as usual for the brand.
Her blog post about it struck quite the chord: The Daily Mail, the Huffington Post, and Jezebel all picked up the story, quoting Margot and myself on the topic. Margot also was interviewed by Fox and Friends.
As Margot put it on Fox and Friends: "Feet are not that different. Boys and girls, especially four-year-olds, have basically the same shoes and basically the same feet." So why such a strong and stereotypical gender segregation?
---