Adopt a chicken: Hens fly the coop via private jet. Moms, here's a pet idea
(Read article summary)
Adopt a chicken: Yes, Mom, a new pet idea straight off the rescue jet from California. 1,000-plus white leghorn chickens rescued from gassing at a California battery cage egg farm are now in New York waiting for their forever families to adopt them through Animal Place, a sanctuary for rescued farm animals.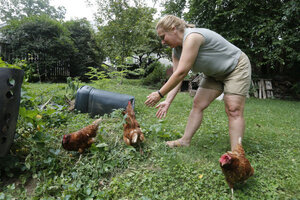 AP Photo/Charles Dharapak
Why did 1,150 chickens cross the country (from California to New York)? To get to the animal sanctuary on the other side.
My nine-year-old is going to read this story and make us watch the movie "Chicken Run" for the next three days. On the bright side, then next time a child asks if chickens can fly I know that the new answer is "Yes, but only on a private jet when being rescued by Animal Place farm animal sanctuary, of northern California" Today that group flew 1,150 hens to New York in style from the California Bay Area.
According to a press release by Animal Place, the hens were part of a group of 3,000 rescued by Animal Place.
"The two-year-old white leghorns were saved from gassing at a California egg farm battery cage egg farm, where they lived in cages so small they couldn't stretch their wings. When they were eight days old, the hens had a portion of their beaks cut off, without painkillers, to prevent injuries from fighting in cages," the release states.
After being checked by veterinarians and rehabilitated by Animal Place's staff and volunteers, the hens were carefully loaded from Animal Place's two facilities in Grass Valley and Vacaville, Calif., then trucked to the Hayward Executive Airport for a 6:45 p.m. departure. They arrived at Elmira Corning Regional Airport in Horseheads, N.Y. around 7 a.m.
If you woke up somewhere in the Midwest or Northeast this morning to a breakfast of tofurkey and soy milk thinking, "What I think my child really needs is a two-year-old white leghorn as an animal companion," you're in luck because these birds are up for adoption.
---