Teen drinking: Overall it's down, but binge drinking is getting more extreme
(Read article summary)
Binge drinking: A new study of high school seniors' alcohol consumption finds evidence of extreme binge drinking growing among a few.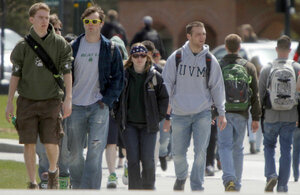 AP Photo/Toby Talbot, File
In the midst of the never-ending, drama-driven news cycle, it can be difficult to keep priorities straight. Terrorism soaks up tons of ink, but kills very few Americans on an annual basis; traffic accidents claim far more victims but are viewed as a normal part of modern life.
So too has teenage binge drinking receded from popular consideration – evading the 21-year drinking age has long been something of a national youth sport, and getting a fake ID remains a rite of passage on college campuses from coast to coast.
A new University of Michigan Ann Arbor-Penn State study published this week in JAMA Pediatrics puts a fine point on the problem and its consequences. A sample of 16,000 high school seniors across the contiguous United States from 2005 to 2011 found that 20 percent reported binge drinking (five or more drinks at a sitting) within the past two weeks of being surveyed. Ten percent reported extreme binge-drinking of 10 or more drinks; and 5 percent reported consuming a (literally) staggering 15 or more drinks in a sitting.
The context for these stats: approximately 5,000 alcohol-related deaths a year of people 21 and younger, and an estimated $62 billion annual cost related to problems stemming from underage drinking.
The study (which excluded high school dropouts) found some trends among those who drink: Midwesterners and Northeasterners drank the most, boys drank more than girls, religious students drank less than others, and rural students drank more – rural boys, far more.
---