Google Doodle: All hail the post-Google parent
(Read article summary)
Today Google celebrates its 15th birthday with an interactive Google doodle game. One father reflects on how Google has changed the face of information, learning, and parenting.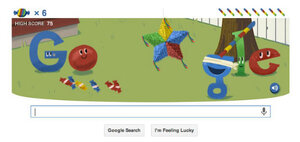 Google
In the 15 years since Google was founded (you can see that momentous event commemorated here in today's cute Google doodle piñata game), the company has had a massive impact on the way Internet searching works. And by improving the Internet search from a largely ineffective random grab into a powerful precision tool, Google has also transformed a number of other massively broad spheres of activity, including commerce, government, and leisure.
Beyond that: Google has changed the way parents do their thing, too. We are now armed with the rapid ability to obtain knowledge on nearly anything we want, which makes us more effective (or more efficiently ineffective) parents than the world has ever seen.
In short: the post-Google parent is aware (possibly over-aware) of trends, ideas, and occasionally actual knowledge in a way that his or her pre-Google counterparts weren't. That includes ...
Keeping up with slang
Since time immemorial, language has changed and adapted, with hallowed traditions defended by increasingly scarce and embittered graybeards while young whippersnappers dish up hot dishes of new, nearly impenetrable slang seemingly for the sole purpose of confusing and annoying their elders. And then, of course, the students become the masters, confused in turn by the next wave.
Google may have helped to short-circuit this ancient ritual: nowadays, if you're trying to figure out what AFAICR means, or how to go ghost, it's a quick search engine query away.
Having some idea of who Drake is
---