Jennifer Lawrence teaches about male privilege
(Read article summary)
Jennifer Lawrence: Oscar winner Jennifer Lawrence was once told that she'd be fired if she didn't lose weight. While girls and women have grown accustomed to being judged by their weight, men tend to be immune from such scrutiny.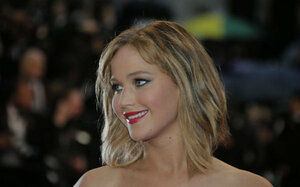 Lionel Cironneau/AP
A great deal of understanding life involves understanding your own level of privilege. For example: Did you grow up the white child of married, college-educated parents in an affluent or comfortable neighborhood? Congratulations: You were born with a complicated and profound network of advantages that has helped you accomplish everything you've ever tackled since.
On a similar note: it can be difficult, at times, to remember that male privilege is a very real thing. Personally speaking, I spend a good 50% of my waking hours complaining at length about all the minor misfortunes and inconveniences that have befallen me, and I therefore tend to lose track of all the benefits that I wallow in daily. But then stories like this one come along: "Jennifer Lawrence Was Once Told to Lose Weight or Get Fired."
Here's the context: Oscar winner and blockbuster mega-star Jennifer Lawrence ("The Hunger Games") was once told that she'd be fired if she didn't lose weight, and the point was driven home using scantily-clad pictures of herself.
As a male, this hasn't happened to me. Ever. Even vaguely. And you might say to yourself (should you happen to be female), "well, wait – as a female, this hasn't happened to me, either."
---