Athletes peddling junk food: The beginning of the end?
(Read article summary)
Celebrities like Peyton Manning rake in big bucks for commercial endorsements, but recently Manning and other athletes have garnered criticism for pushing junk food. Could push-back from the public change the celebrity endorsement game?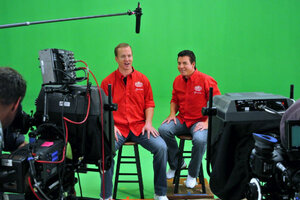 Jack Dempsey/Invision for Papa John's/AP
In a sense, it's not surprising news: a Yale University paper published Monday in the journal Pediatrics documents the tendency of athletes to endorse energy-dense, nutrient poor food, and a paper published two years ago in Australia suggested that when sports celebrities endorse junk food, public perception of those foods becomes more positive.
In a nutshell: popular athletes make lots of money by helping to sell extremely profitable, horrible food, and they're paid well because their endorsements work.
Denver Broncos quarterback Peyton Manning is singled out for analysis by the paper; interestingly enough, he is not just a promoter of Papa John's pizza, he's a profit participant. Here's the NBC News summary of Manning's situation:
The QB pockets $12 million annually by lending his face, voice, and persuasive powers to Buick, Reebok, Gatorade, and DirecTV plus Papa John's – and he owns 21 Papa John's stores in the Denver area, according to Forbes.
On Sept. 29, his pizza-pie profile even ignited some on-field ribbing: During the Broncos' win over Philadelphia, Eagles defensive players tried to drown out Manning's play calls by repeatedly screaming the name of the pizza chain.
---