Breaking in the new school year, preserving that new car smell
(Read article summary)
School is in full swing with homework assignments flying and fall sports teams hitting the field, but it still feels like a new school year. How do you preserve that 'new car smell'?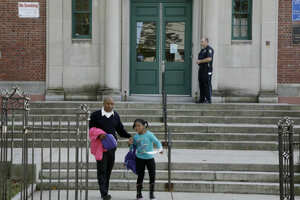 Stephan Savoia/AP
It's October, but it's still a new school year for us all: teachers, parents, and students. For some of us it's also a new year in a new school – or the very first school year ever, if you're just getting started in kindergarten or preschool.
At any rate, we're all driving "this year's model" off the show room floor! As we stand here, let's think about this next chapter in our relationship with school. Here's a School Principal's metaphor that might help.
Thank you for making [Insert your school name here] Motors your family's car company. Yes, we are your new car. However, we are actually an old car, with millions of road-tested safe miles and thousands of (mostly) satisfied customers. But for you, we are brand new.
We smell great. We're still under factory warranty: tuned up, driving every bit like the car you imagined, getting the gas mileage you hoped for. You haven't even checked the owner's manual (at least the guys haven't), nor filled up your second tank of gas. Your kids have not yet put their muddy feet on the back of the seat. You haven't changed the oil – yet. You look marvelous in your new car!
But I must prepare you for the following fact: there is going to come a day when you will get your first ding in your new car. Someone in the proverbial parking lot will let a shopping cart hit your driver's side door and chip the paint. A bird is going to poop on the hood. You are going to park under a tree that drops sticky sap on it. You are going to hit a bump in the road and jostle the passengers. You are going to spill on the front seat, and lose gummy bears down the defroster vent. Your children are going to change the preset radio station buttons.
Try as we might to control your total driving experience, here at Your School Motors, there are many, many factors of this ride that are actually forces beyond our control, or that we will have to analyze together to understanding and mitigate. And appreciate. Mostly appreciate, because the fuel and momentum here is the mojo of childhood and learning. And a sense of joy for the ride. This is a driving experience, after all. We are going somewhere.
---