As Facebook's teen mojo fades, parents ask: What's next?
(Read article summary)
Facebook has lost some of its allure for teens as their parents and teachers have made themselves home on the site. So where are they heading for their social media fix?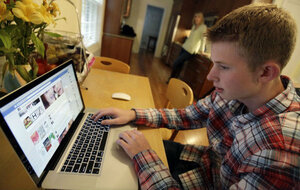 Nam Y. Huh/AP
People like to know about the next big thing, and feel anxious until they've pinned it down. And for quite a while it was safe to say that Facebook was it – both the reigning current big thing and the next big thing, an easy answer for parents, marketers, social commentators, and anyone else trying to pin down where the action is taking place online.
And while 2013 won't be remembered as the year that Facebook died (or even faltered), it does seem to be a turning point in the social network's history, as it pivots from the end-all-be-all to the conservative favorite among an unruly pack of social media upstarts.
A Monitor post from earlier this year captures a quote from the authors of a Pew study that sums up the zeitgeist quite nicely, speaking of:
...the sense of a social burden teens associated with Facebook. While Facebook is still deeply integrated in teens' everyday lives, it is sometimes seen as a utility and an obligation rather than an exciting new platform that teens can claim as their own.
---