Justin Bieber's Brazilian antics: Where's the respieto?
(Read article summary)
Justin Bieber's antics in Brazil during his Latin American concert tour have provided great tabloid fodder, but left at least one 18-year-old enamored with Brazil fuming that Justin Bieber is squandering his Brazil trip.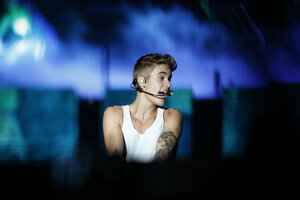 Jorge Saenz/AP
While Justin Bieber is in Brazil ignoring its many wonders – opting to spray paint graffiti on its walls and getting videotaped by girls while he's sleeping – perhaps he should enroll in Brazilian jiu-jitsu classes where he can learn to live the phrase, "Respeito (Respect): Hard to earn. Easy to lose."
My son Ian, 18, introduced me to the "Respeito" saying which he wears on a T-shirt and mumbles every time Justin Bieber's Brazilian antics make the news.
Mr. Beiber, 19, is in Brazil as part of his ongoing South American tour and he's making a typical teen spiral hash out of it.
"Police in Rio de Janeiro on Wednesday said they were investigating whether Canadian teen singer Justin Bieber had illegally spray painted graffiti on an exterior wall of a beachside hotel," according to the latest Reuters report today.
First video of a sleeping Bieber, appearing unclothed but for a thin blanket, shot by a young woman who turns the camera on herself and blows him a kiss appeared on YouTube, according to CNN.
Then, early Tuesday, the singer and members of his entourage, were caught painting the wall outside an upscale hotel in Rio's São Conrado neighborhood, Reuters reports.
As a dedicated student of Gracie Brazilian Jiu-Jitsu (BJJ), Ian works, hopes, and dreams of the day he will make it to Brazil to witness the 2016 Olympic Summer Games.
Even though Brazilian jiu-jitsu isn't an official competition sport in the games it will be a demonstration sport.
---