Sound of Music: Von Trapp family snubs NBC casting
(Read article summary)
'The Sound of Music': Carrie Underwood tries her best, but nearly ruins one family's love for "The Sound of Music" and the Von Trapp Family.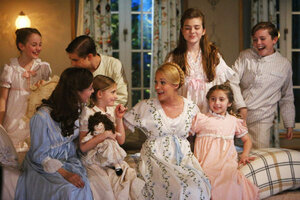 Will Hart/NBC/AP
After Carrie Underwood performed the "The Sound of Music" in a live broadcast last night, the von Trapp family and mine found we couldn't solve a problem like awful acting. Hopefully Ms. Underwood's performance won't make the next generation take the musical off their list of "favorite things."
"It's just upsetting that this could potentially be the final broadcast of our story," Myles von Trapp Derbyshire told ABC upon first hearing that Underwood would play his great grandmother Maria, originally played by Oscar-winner Julie Andrews in the 1965 film, "The Sound of Music." One can only imagine what he thought of the actual performance.
"And although her voice is amazing, she doesn't have acting experience," Mr. Derbyshire told ABC "It's just the overall image, she's a country star, she won 'American Idol,' she's very public in kind of a tabloid way."
It was hard for me to tell exactly what my 10-year-old son was saying with the couch pillow over my head, but it sounded like, "Can we make this stop now?"
I have to add that while I absolutely adored Stephen Moyer as Captain Von Trapp, for both his singing and acting talent, it was not lost on my kids that it was "Vampire Bill" from HBO's "True Blood."
It was a distraction that proved impossible for them to overcome when watching the show.
As they say in "True Blood," it all added up to "the true death" of a family tradition at our house.
For me and my family, "The Sound of Music" offers a soundtrack that has played through many scenes in our lives.
I grew up singing every song from the film score, particularly, "How do you solve a problem like Maria?" when the nuns at the abbey lament the capricious ways of the main character.
---