Jennifer Lopez, cherish your son's love note when he is a teen
(Read article summary)
Jennifer Lopez was gushing earlier this week about the first love note she received from her son, Max. Remember to keep those love notes handy, J-Lo. When he enters his teens, you may need them as a reminder of his mother love, even if he doesn't show it.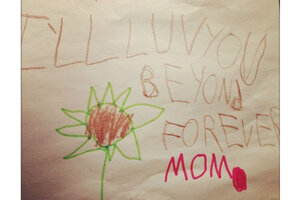 jlo on Instagram
Jennifer Lopez just got her first love note from her son Max that made her cry, but what she doesn't know is that by saving that note she will have a lifelong source of tears beginning when her child becomes a teenager.
Ms. Lopez, 44, said on "The Ellen DeGeneres Show" on Wednesday that, "It says, 'I'll luv you beyond forever Mom.' I'll cry right now! Stop it!"
"It just made my whole life," the American Idol judge said of the handwritten message, which she also posted via Instagram.
Hang on to that note, J-Lo. Once Max hits his teenage years, you're gonna need it like a child needs a security blanket.
When my son Ian, now 18, was little, he wrote to me, "I love you to the moon and back. I'm gonna marry you Mommy."
As soon as he became a teen he coined the expression, "Mom's touch burns like dragon fire." He's now 18 and can just about manage not to flinch when I try to hug him.
Actually, Lopez has a sporting chance that Max will not become a "touch-me-not" teen.
My sons Zoltan, 20, and Avery, 14, both came through the "Mom's touch burns like dragon fire" stage and are back to being huggers again. My youngest son Quin, 10, is still a major hug monster.
When I saw Lopez's story, my heart just turned over for her, but more for those aging love letters tucked away all over my house. I never did scrap books, but I have the notes squirreled away in books and in drawers.
In fact, Lopez inspired me to call my mom, 83, in New Jersey this morning to ask if she ever kept the love notes my brother, Adam, and I wrote to her.
---