Mark Wahlberg not a kid-friendly host for Kids' Choice Awards 
(Read article summary)
Mark Wahlberg has been selected to host the Kids' Choice Awards – a show aimed at kids ages 2-11 – during the marketing campaign for the latest 'Transformers' film, rated PG-13. Is he the wrong choice as host?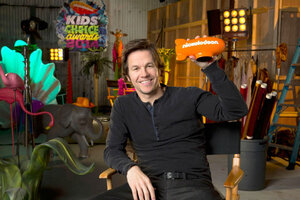 Nickelodeon/PRNewsFoto
Mark Wahlberg has been named the host of the 2014 Nickelodeon Kids' Choice Awards, leaving parents to deal with the issues of his inappropriate filmography and the expected hype for his upcoming role in the fourth Transformers film.
Seeing the news, I wondered which role landed Mr. Wahlberg the job hosting a show with a demographic of children ages 2 to 11. Was it the bloody action thriller "Lone Survivor" or the one with a teddy bear (in the film "Ted") that spews obscenities while acting like a porn star?
Last year, Nickelodeon was the top cable network with kids ages 2-11 (3.1/1.0 million; +24%) and total viewers (2.0 million; +27%). Nickelodeon's 2013 Kids' Choice Awards managed to garner 12 million total viewers, according to the ToonBarn website.
I like Wahlberg, but wonder what the folks over at Nickelodeon could have been thinking when they selected him to host a show for that age bracket.
Then, I read further into the news stories and found that Wahlberg will star in Michael Bay's "Transformers: Age of Extinction," in theaters June 27. The film is expected to be rated PG-13, like all the others in the franchise.
---