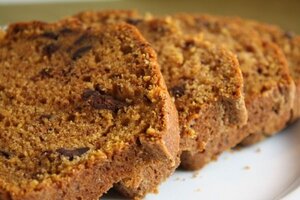 The Gourmand Mom
The kids and I cook together quite a bit. In fact, I can't enter the kitchen these days without my three year old on my toes, shouting, I want to help! I want to help! As you may imagine, the more we cook together, the more smoothly our cooking adventures tend to go. The boys understand the lay of the land in the kitchen. Mostly. Wildly running their hands through a floured table is still irresistible to them. But, for the most part, our cooking moves along smoothly. They mix, they measure, they stir, they smell, they taste. We move along like a well-oiled kitchen brigade. Until I handed my three year old a ramekin of eggs, mistakenly assuming that he'd pour them into the mixing bowl, as he'd poured in the oil and water. Rather, he inserted his hands into the dish of raw eggs and attempted to pick one up. I've never seen such an adorably puzzled reaction. I guess we've still got a few things to work on.
This recipe is a little unplanned extra for the week. I ended up with a bunch of leftover pumpkin puree, which would have been a pity to waste. So, I stuck it in the fridge while I waited for pumpkin inspiration. Then, after passing a loaf of pumpkin bread in the grocery store, it occurred to me that I could use my leftover pumpkin in exactly the same way I use my leftover, over-ripe bananas! I went straight to my favorite banana bread recipe and made a few tiny adjustments; a little extra sugar to account for pumpkin not being as naturally sweet as bananas, a little extra cinnamon and a touch of nutmeg. Adding chocolate was a no-brainer for me. The resulting bread is sweet, delicious, and seasonally perfect.
We'll be making this recipe again next week, in muffin form, for my little guy's nursery school Halloween party! To make as muffins, follow the same recipe, but reduce the cooking time to about 30 minutes.
---