Delicata squash grilled cheese sandwich
(Read article summary)
Gourmet flavors meet in the humble grilled cheese sandwich.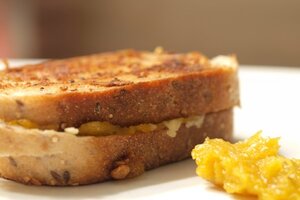 Grilled Shane
I have not posted a grilled cheese sandwich recipe/entry since August 29, 2010. That adds up to over two months of non-grilled cheese photographing and writing. Amazing, isn't it? I had no idea it had been that long. Either way, I am back with a brand new sandwich that has Thanksgiving/fall undertones. Last year, I went with pumpkin pie dip. This year, I went with delicata squash. And it turned out pretty well.
Ingredients for delicata squash grilled cheese
Delicata squash
Hirtenkäse Cheese
Flax/Quinoa Bread
The cheese: hitenkäse
Whole Foods had a cheese sample out so of course, me, being a cheese lover, took a taste. It was creamy and nutty with a long finish. I was sold. The cheese I was tasting was Hirtenkäse and from Germany. According to the San Francisco Chronicle, there is an awesome festival honoring the cheese-making cows that occurs each year on September 18, as long as it is not a Sunday:
Almabtrieb, or descent, [is] a day celebrated with a festival that draws locals and tourists alike. Farmers drape their cows with flowers, with the lead cow from each farm given a more elaborate bouquet. Spectators line the route to watch the cows traipse down, a reminder of the economic importance of cheesemaking in these mountainous regions.
The Chronicle goes on to describe how Hirtenkäse is produced:
Hirtenkäse, literally "herdsman's cheese," is an aged cow's milk cheese that has been made in the Allgäu for centuries from the pooled milk of small farms. The version we are seeing locally is produced at a dairy that collects its milk daily from 250 farms, with an average of only 12 cows each. The milk is pasteurized before the cheesemakers proceed with the culturing, curd cooking, molding and pressing required for an age-worthy cheese.
---