Pulled pork with an Asian twist
(Read article summary)
Char siu is the main flavor in a Chinese pulled pork sandwich.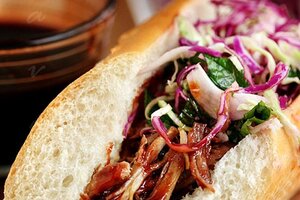 Ravenous Couple
We've been guilty of it many times. Guilty of staring through the windows of Chinese BBQ's with our mouths watering at the red, glistening, long pieces of barbecue pork hanging by the dozens – watching each droplet of pork fat fall, as if in slow motion, from their charred tips. We would subconsciously lick our lips as the scents of five spice, soy sauce, hoisin, and charred pork fat reached our noses. And it's these primary flavors along with the sweetness of maltose that gives it that unmistakable sheen and makes char siu pork so tantalizing to the senses.
The image of Char siu (also called cha siu, char sieu, or chashao) pork hanging in the windows of small Chinese BBQ's can be seen across America and is synonymous with Chinese style barbecue. Char siu pork can be enjoyed in a variety of ways including in a bun (char siu bao) on dum sum carts, in noodle soups such as in egg noodles or ramen noodles, or simply over plain jasmine rice.
A few weeks ago, we catered a baby shower and to feed a large crowd of 40, we decided to use char siu as the main flavoring agent for a slow cooker pulled pork and paired it with a clean and crisp Vietnamese cabbage slaw. We made about 9 feet of char siu pulled pork banh mi (3 full length baguettes) along with a 5 lbs of pork shoulder and not a single trace was left.
The char siu seasoning is not that complicated and in fact, quite easy to make at home using Metlting Wok or Rasa Malaysia's recipes. Or you can buy store bought char siu sauce – Lee Kum Kee brand is a good option. We've adapted the recipe for a more managable 3 lbs. of pork, but feel free to adjust accordingly.
---