Thanksgiving fennel salad
(Read article summary)
A fresh, crunchy fennel salad will balance all of the rich foods on the Thanksgiving table.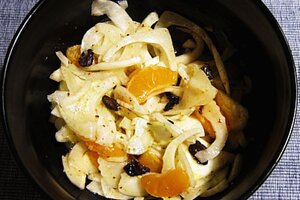 The Rowdy Chowgirl
I've been mulling over Thanksgiving vegetables. I've been rolling string beans, Brussels sprouts, and broccoli around in my mind like a handful of smooth, green marbles.
Thanksgiving is at my house this year. Eons ago, I vowed to never cook a holiday meal by myself again. After many, many, experiences of shopping and cooking myself to the brink of exhaustion for one meal, just one meal, which was over in less than an hour, I said enough. And I've stuck to it. I know there are plenty of people who truly enjoy cooking for days on end and are still smiling, flushed with success and brimming with satisfaction, when everyone finally sits down at the table, but I'll let you in on a little secret: I am not one of them.
Holiday meals don't necessarily need to be elaborate anyway. As long as there are plenty of the basics, nobody's going to be complaining. The important thing is to come together around the table with friends and family and celebrate all that we are grateful for.
Fortunately for me, Michael loves to cook turkey, dressing, and gravy. And I've invited some of my favorite people, all of whom have promised to bring their specialties. It's so much more fun to share the cooking anyway, and to get to try someone else's special pie or potatoes. I picked up our free-range turkey at the farmer's market last week and he (or she) is safely stowed in the freezer. I'll set a festive table, and make cranberry relish, and enjoy welcoming friends and family into my home.
---