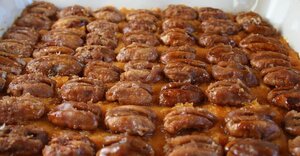 The Runaway Spoon
For most of my childhood, we spent Thanksgiving with my family in Arkansas. It was always a big, loud, boisterous gathering of family we didn't see nearly enough. For many of these years, my brother and I were the oldest of the kids, so we got to sit at the grown-up table, which made us feel very special. After the meal, the men would go watch the ball game and the women would sit out on the sun porch, talking and gossiping and telling funny stories. It always made me feel sophisticated sitting out there, though I generally had no idea what anyone was talking about. I remember the food too, of course. We had all the standards, turkey and gravy, cornbread dressing with lots of seasoning that was always served cut in squares. We had green beans and a cranberry gelatin dish with pecans that I loved and haven't had in years. And of course, sweet potato casserole with the jumbo marshmallows melted to a gooey, golden brown topping. As we all grew up, some married, some moved and time and tradition moved on, as they always do.
My immediate family spent a few years as Thanksgiving pilgrims ourselves, wandering in the wilderness looking for a new tradition. One year my parents and I went to Rome. One year the rest my family went to North Carolina but I had to work over the weekend. I ordered myself what proved to be a disappointing meal shipped in from a high-dollar gourmet shop in New York. The first year I was in my new kitchen and house, it was just me and my parents on Thanksgiving Day, and I was determined to use the fancy new convection feature on my oven to roast the turkey. But the durn thing just would not cook, and eventually my mom and I lost patience, cut off a few slices and put them in the microwave.
---
Follow Stories Like This
Get the Monitor stories you care about delivered to your inbox.