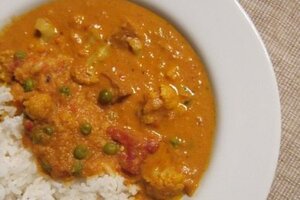 The Rowdy Chowgirl
After four blissful days of Thanksgiving leftovers, I thought I had finally eaten my fill of turkey. Oh, it had been fun to pull all of those containers out of the fridge and assemble a heaping plate, put it in the microwave, and then eat all of that gravy-soaked goodness in front of the TV in sweatpants. It was comforting after a very busy couple of weeks to not think at all – not about what groceries were needed, or what to cook, or where we should go for dinner, or even what I felt like eating, because it was a foregone conclusion that it would be turkey again.
And then the leftovers were all gone, and just in time. Enough stuffing, mashed potatoes, and gravy. I longed for color! I craved spice!
I had saved a bit of leftover turkey in the freezer, thinking that I would use it in the next month or so. But I discovered that I still had a hankering for just a little more…which meant that it was the perfect opportunity for a curry recipe I had seen on one of my favorite food blogs. Miss Julie's Chicken Curry had been in the back of my mind for a few weeks. Like all of the recipes on Natalie's Kitchen, it looked warm, delicious, and homey in the best English tradition, the kind of meal you want to eat on a rainy night in front of a blazing fire.
But the curry had to wait, as we headed into a series of holiday parties and dinners, and then Thanksgiving. It was temporarily pushed aside by an intense, but ultimately short-lived affair with carbohydrates and one free-range turkey known as Gobbly.
At last, stuffing and potatoes were a mere memory and it was manifestly time for a rich, spicy curry. So I pulled out the recipe and started converting British measurements to American approximations.
---