Coconut quinoa and spinach salad
(Read article summary)
A gorgeous and tasty quinoa salad to help balance all the sweet, rich holiday foods.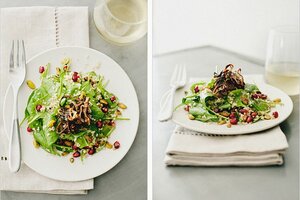 Sprouted Kitchen
It was different this year. Different, in an oh-so-wonderful kind of way.
Christmas took its same course of stress and scrambling to make sure I got everyone something thoughtful and nice, sticky notes of who is cooking what, messages of what time we need to be where and remember to tell grandma an hour earlier because you know she'll be late. A joyful frenzy builds through December, to a day that is, well, joyful and frenzied? Hugh and I were able to spend time with everyone, chased around our adorable niece, bundled up for church outside, stayed up super late laughing and chatting with each other; I made undercooked french toast for my family, got a vacuum from Santa, and soaked it in. The holidays are some of the sweetest and funniest times with my family, and having a sparkly new husband to enjoy everything with, made it even better. We got home late Christmas night after talking all day, and I told Hugh the presents were nice, but my favorite part is just the time. We don't often have days with no where else to be than where you are, doing just what you're doing. You've got to savor days like that.
So here we are again, a bit overloaded on sweets and craving foods on the lighter side. This salad is so tasty and gorgeous with all the contrasts of color. Little bit of crunch from the pomegranates and pistachios, and just a subtle touch of coconut in the quinoa. I've been eating leftovers with an egg on top, and I think it'd work well with just about any protein.
May the rest of your holiday season be full of the giving and taking of time.
Coconut Quinoa and Spinach Salad
Serves 6 as a side salad
I know some are still wary of using raw spinach, and I think arugula would be great as well, maybe just use a bit less as it's a bit stronger in flavor.
1 cup quinoa
1 cup light coconut milk
1/3 cup vegetable broth or water
2 large shallots, sliced into coins
2 tablespoons coconut oil*
1 cup fresh pomegranate seeds
4 cups-ish organic baby spinach
1/2 cup toasted pistachio nuts
2 tablespoons orange juice
2 teaspoons fresh thyme or 1 teaspoon dried thyme
3 tablespoons olive oil (I used a lemon infused olive oil – SO good)
Salt and pepper, to taste
---
Follow Stories Like This
Get the Monitor stories you care about delivered to your inbox.