Nonalcoholic drinks for grown-ups
(Read article summary)
New Year's Eve drinks can still be snazzy without the booze.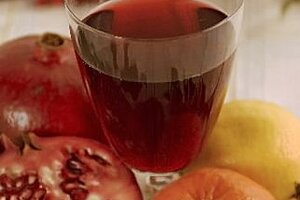 Joanne Ciccerello
If you are getting ready to host your New Year's Eve party tonight, please don't forget the "nondrinkers" who will be present. There is always at least one at every party for a variety of reasons: maybe she is pregnant, or maybe he is trying to cut back, or maybe that couple doesn't drink for health reasons, religious reasons, or they simply want to be clear-eyed and ready to hit the slopes bright and early the next day.
There is no reason that alcohol-free drinks can't be creative, festive, and smart.
At most parties I've been to the nonalcoholic drinks are usually a lonely display of plastic liters of soda and fruit juices – sugary and uninspired. This is OK, but as someone who chooses not to drink alcohol, it sometimes leaves me wondering if I should also be carrying around a balloon and a lolly pop with my "Shirley Temple." This is not OK.
Fortunately, more restaurants are beginning to offer creative drinks without alcohol and the ingredients are simple enough that you can easily recreate these at home. You can also find "mocktail" ideas in these guides: "Zero-Proof Cocktails" by Liz Scott, "Preggatinis: Mixology for the Mom to-be," by Natalie Bovis Nelson, or "The Ultimate Liquor-Free Drink Guide," by Sharon Tyler Herbst.
---