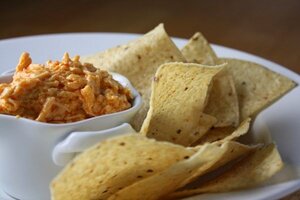 The Gourmand Mom
You're just gonna have to trust me on this one, because the pictures don't do it justice. In fact, the appearance of the dip doesn't do itself justice. Have you ever had the experience where your perception of a person's physical appearance changes, for better or worse, once you get to know their personality a bit? You know, when Ms. Bombshell Blond or Mr. Tall-Dark-and-Handsome suddenly doesn't seem so hot after you discover their vapid interior? Or when average Joe or Jane suddenly take on a charming cuteness, which you hadn't initially noticed, after you discover their crackpot sense of humor, quick whit, and kind soul? This dip is kind of like that. At first glance, you may overlook the sloppy pinkish-orange concoction. Then you catch a whiff, which is enough to lure you over for a little nibble. It's love at first bite, and suddenly you're gazing into that bowl with star-crossed love in your eyes. What this dish may lack in appetizing curb appeal, it more than makes up for it in flavor. Trust me.
I've been informed that it is still football season. Football has never been a big part of my life. As a child, my family would throw a big Super Bowl party every year, which always struck me as odd, since my family didn't watch football ever, except on Super Bowl Sunday. But, those parties were always a blast. It was never really about the football.
Football and tailgating may be a nonexistent part of our lives, but I know all about good food for gatherings. And this chicken wing dip would make a great addition to a tailgating party or any gathering of friends. It has all the taste of spicy Buffalo chicken wings, dipped in blue cheese dressing, without the inconvenience of bones or messy fingers. You can find a variety of recipes for chicken wing dip all over the internet. Here's another version, for your tasting enjoyment.
This Chicken Wing Dip is best served hot out of the oven, so if you'll be bringing it to a party, put it together ahead of time and pop it in your host's oven to heat.
(See next page for recipe)
---