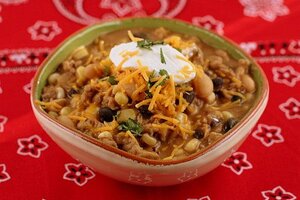 The Runaway Spoon
Here we are again. The days are cold and a little gloomy, the holidays are over, and it is time for hunkering down at home. Right about now, I imagine everyone is craving a nice big bowl of warm, comforting goodness. It's always nice to have a little twist on a classic, and mine is this creamy chicken chili with the added touch of black beans along with the white – that's why I call it "Tuxedo Chili." Plus, this version is simple to make and packed with flavor. And what's better on these chilly winter nights than a big, steaming bowl of chili?
I make this chili all the time, and I've always thought it's really tasty. I shared the recipe with a friend and now every time we get together with folks, he tells people about how much he likes my "black and white" chili recipe. He says he makes it all the time. He's a good cook, and a good eater, so I trust his opinion.
I love a meal like this with family or friends – everyone will love it, and putting out bowls of cheese, sour cream, chopped cilantro or any other toppings you'd like for everyone to tailor their own bowl is always fun. Serve this with warm tortillas, corn bread, or try Super-Quick Smoky Cheddar Loaf for a hearty, warming meal.
(See next page for recipe)
---