Pasta with roasted cauliflower, kale, and sardines
(Read article summary)
This is the 'best pasta dish in the history of the world.'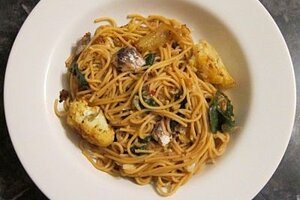 The Rowdy Chowgirl
Just drop everything. Seriously. Whatever you are doing – drinking a cup of coffee at a cafe, sprawled out on the couch with your laptop, killing time at work on the Internet, just stop. Go check your cupboards and your refrigerator. Because you may very well have all of the ingredients you need. And if not, a quick trip to the grocery store is in order, so you can make the best pasta dish in the history of the world: pasta with roasted cauliflower, kale, and sardines.
Think I'm overselling it? The funny thing is that you wouldn't be alone there. I fell madly in love with this pasta dish several weeks ago. I happily ate it for days, and then I made more. And like anyone who is newly in love, I was full of hyperbole and exclamation points. I felt that I had to tell everyone. "I made the best pasta ever!" I would say, to politely interested looks. "It has cauliflower, kale, and sardines in it!" At that point, inevitably, noses would start to wrinkle. "Sardines?" the skeptical reply would come. Some would even go so far as to say, "Yuck!"
Really! I can't help but wonder how many of those nose-wrinklers have actually tried sardines, or whether they are just tuning in to long-buried memories of cartoon cats like Sylvester, eating a stinky can of fish.
Sardines, like other small oily fish, are not only good for you, but delicious. Good quality sardines packed in olive oil are not stinky, nor are they particularly salty like anchovies. And fresh sardines, especially just-caught ones grilled over wood and served sprinkled with coarse salt in an open air beach restaurant at sunset on the Costa del Sol in Southern Spain … well, I simply don't have the words to do them justice.
---