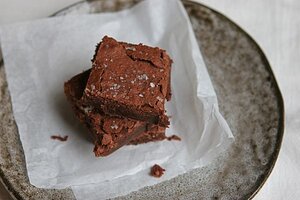 In Praise of Leftovers
I cannot remember the last time I made brownies. Any faint memories I do have aren't good. Once, I made a giant double batch of Barefoot Contessa brownies and left the sugar out. Other times, the recipe has been disappointing – too dry, too wet, too sweet. A few months ago, my friend Abra asked for a good brownie recipe. I'm finally getting around to it, and these deliver. Big time. (Poor Yancey had to endure me preening all night).
They take a few pantry staples – lots of butter, flour, plain old cocoa powder and unsweetened chocolate – and turn them into something that will have you sneaking out of bed in the middle of the night. They have a thin layer of crackle on top, fissuring to reveal a dark, chewy density. Really, the perfect brownie.
I've (again) drastically cut down my sugar and fat intake the last few months. So when I sat down with one of these and a cup of coffee this afternoon, I savored every sweet, fudgy, salty morsel.
Fudgy Salted Brownies
You won't be surprised that this is adapted from a Melissa Clark recipe. She includes a pinch of cayenne, which I didn't for the sake of children. And I covered half the batch with flaked salt and left the other half plain. I can imagine lots of other additions if you want to experiment – bits of candied ginger, cinnamon for a Mexican chocolate version. I happen to have a 9×13 baking sheet (quarter sheet) which is my workhorse for bar cookies. If you make cookies a lot, I suggest spending the $10 for one. If all you have is a 9×13 baking dish, that will work, too.
2 sticks plus 2 tablespoons unsalted butter
3 ounces unsweetened chocolate, chopped
1-1/2 cups flour
1/2 teaspoon kosher salt
1/2 cup plus 1 tablespoon cocoa powder
2-1/2 cups sugar
3 large eggs, lightly beaten
1 tablespoon vanilla extract
Maldon salt, for sprinkling
---