Super Bowl recipes: Spinach dip and fried wonton chips
(Read article summary)
Make sure your Super Bowl recipes include the crowd-pleasing spinach dip.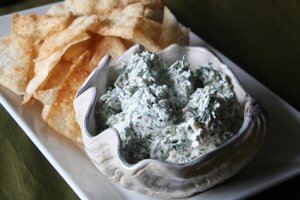 The Gourmand Mom
There are a handful of recipes I make over and over again when I entertain; the items that people have come to expect when they visit. One of those things is spinach dip, typically served in a hollowed-out bread bowl with chunks of bread scattered all around for dipping. People frequently comment on how much they love my spinach dip, but I can't really call it mine at all. The recipe is printed on the back of every packet of Knorr Vegetable Soup Mix. My mom used to make it for parties when I was a kid. At that time, it was her recipe. I make it now and it's mine. You can make it tomorrow, and call it yours. But the true credit goes to Knorr.
Every single time I've ever made this dip, I've served it in a bread bowl (usually pumpernickel) with doughy chunks of sourdough and pumpernickel all around. Except recently, when I didn't serve it with bread at all. I was inspired to try something new after a night out with my sister and a friend. We'd eaten at a restaurant which has several dishes on their menu featuring something called pasta chips. I'd had pasta chip nachos on a previous visit. And last week, we ordered a spinach and artichoke dip that was served with these crispy pasta chips. Following the initial nacho experience, my sister and I pondered how the pasta chips were made. When we had them again last week, an idea occurred to me. Perhaps they were made with wonton wrappers, like the wonton wrappers I used in the Shrimp and Sweet Corn Ravioli. I decided I'd give it a try.
Well, after frying up a batch, I can't say for certain that the restaurant uses wonton wrappers for their pasta chips. The end result was quite similar, but not quite their pasta chips. But you'll never guess what they did turn out to be. Drum roll please…. Fried Wonton Chips! And they are good; addictively good. So, I fried the whole batch and served my Wonton/Pasta Chips with the dip.
(See next page for recipe)
---