Cuban sandwiches
(Read article summary)
A Cuban sandwich stuffed with ham, cheese, and pickles is the best way to eat up leftovers.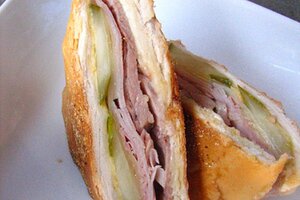 We Are Never Full
Cuba is synonymous with a few things in everyone's mind, and whether or not you're a commie, a weak-willed socialist-sympathizing pinko, or even a right-wing pseudo-fascist, there is much to admire about that politically-isolated island nation. Its long and storied colonial history, the amazing preservation of its architecture and fleet of intact 1950s Chevrolet, its magnificent music – most famously heard in Buena Vista Social Club, its many and beautiful beaches, it being the location of a mafia meeting famously portrayed in The Godfather, pt II, and, most significantly to us folks here at We Are Never Full, a myriad of delicious dishes made from the king of meats, pork.
As regular readers will know, we are obsessed with pork, especially roasted pork, so while we've yet to make any more than the briefest foray into Cuban food, we definitely intend to compare Lechon Asado Cubano (Cuban Roasted Pork) and Masas de Puerco Fritas (Cuban Fried Pork Chunks) to their Puerto Rican and Colombian counterparts that we have tried, just as soon as our cardiologist deems it safe to do so. In the meantime, we elected to solve our latest leftover roasted pork crisis with Cuba's other synonymous comestible – the Cuban sandwich. In this case, we used the leftover pork from our Italian-Style Roasted Pork Shoulder with Salsa Verde.
---