Garlic and green onion mashed potato grilled cheese
(Read article summary)
Why serve french fries on the side of a grilled cheese sandwich when you can enjoy mashed potatoes inside one?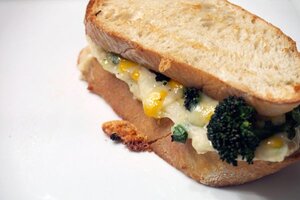 Grilled Shane
As I do when I don't have an idea for a sandwich, I walk around Whole Foods looking for inspiration for the week's sandwich. However, this time, it was not Whole Foods that inspired me, but me remembering an old idea I never tried. Way back, I had thought of creating a mashed potato grilled cheese but I never truly thought the idea through. Instead, I ended up creating the Orange Basil Sweet Potato Grilled Cheese. A good sandwich for sure, but not a true mashed potato grilled cheese. Now was my chance to truly investigate what a mashed potato grilled cheese would taste like. Yes, other people have made a grilled cheese based on baked potato toppings, but never actual mashed potatoes in a grilled cheese. I asked Facebook what they thought and I was on my way to creating something truly unique.
Garlic and green onion mashed potato grilled cheese
Homemade Garlic Green Onion Mashed Potatoes
Broccoli/Green Onion
Great Lakes Sharp Cheddar
Wisconsin Dofino Creamy Havarti
Italian/Country Bread
Cheese #1: Great Lakes sharp cheddar
When thinking about mashed potatoes and getting inspiration from a loaded baked potato, cheddar was the first cheese that I thought of. Luckily, my local market had Great Lakes Sharp Cheddar on sale. After tasting said cheese, I realized I could have gone with a sharper cheddar, which is what I enjoy, but the lack of bite did not affect the outcome of the sandwich. If you like a more mild cheddar, this cheese would be perfect for you.
---