Cookbook review: 'Cooking Light Comfort Food'
(Read article summary)
Rich comfort food favorites are given 'makeovers' into healthy and delicious dishes.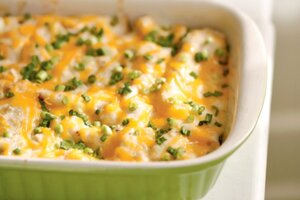 Cooking Light
There's nothing worse than opening a cookbook without any pictures. Fortunately,
 one of my favorite things about the Cooking Light Comfort Food cookbook is its 
scrumptious photos (which are most definitely drool-worthy). From 
huevos rancheros to peach ice cream, your eyes will be begging
 you to cook each recipe.
As my husband I flipped through Cooking Light's newest 
Comfort Food book, we couldn't help but bookmark almost every page. Each recipe just looked 
and sounded that good! 

Perhaps you could call my husband and I Cooking Light experts – we subscribe to the
 magazine, turn to their website or cookbooks for weeknight meals, and constantly
 recommend their recipes to friends.
While their annual cookbooks are great 
resources for keeping the yearly recipes on hand, they only feature a handful of
 photos and are organized by monthly issues. The comfort food cookbook, on the other
 hand, is a brilliant idea – some of my favorite foods – mac 'n' cheese, pot pie,
 cinnamon buns, and meatloaf – are "lightened" so you don't have to feel guilty for indulging in these classic dishes.
I had already made some of the recipes featured in 
the cookbook over the years as a Cooking Light fan, but I decided to try a few new 
ones including cinnamon buns. The soft, warm cinnamon buns topped with ooey-
gooey white icing may have been a lot of effort, but the taste made up for it – and the fewer-calories count is a bonus.

 For health-conscious readers, the cookbook includes complete nutrition information 
with each recipe. It also features different variations on classics including pumpkin 
cinnamon rolls and barbecue meatloaf.
---