Potato bread recipe for bread machines
(Read article summary)
Bread machines require little time and effort to create a perfect, golden loaf.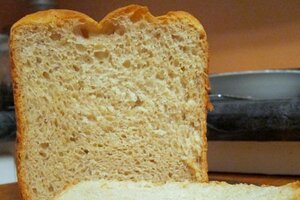 The Rowdy Chowgirl
Last Thursday I had wrapped up all of my work and the mild air outside was calling me, so I left the office an hour early. I've noticed how easily I can waste an hour – online or watching TV, especially, without even realizing that the time has flown away – poof, gone, and never to return.
But give me a free hour, one that I hadn't been expecting, and that one hour is suddenly a gift – rich with possibilities, like a micro-vacation. An hour is enough time for a pedicure, or lunch at an outdoor café, or a bubble bath.
Today's hour was spent simply, but was no less pleasurable for all that. What did I do?
Browsed the bookstore on the way home.
Ordered takeout Singapore Noodles.
Devoured half Singapore Noodles and saved half for the next day.
Fed the cat a treat and reminded him of how great he is.
Made potato bread.
You don't need an entire hour, of course, to start potato bread in the bread machine. If you already have mashed potatoes on hand, it is the work of a couple of minutes to load the ingredients, close the lid, and push start. Even starting with a raw potato, it only takes ten or fifteen minutes to peel, boil, and mash. And most of that is boiling time, which can be profitably used to obsessively remove pork from noodles and/or praise your pets (see above).
So tell me: If you were given the gift of one extra hour, how would you spend it?
This recipe is adapted from The All-New Ultimate Bread Machine Cookbook, by Tom Lacalamita. The recipes are intended to work with any bread machine. The advantage to making bread in the bread machine is that one can walk away. I use my bread machine constantly, and I have found through experience that it works best to peek in after a couple of minutes to see whether adjustments are needed. I usually find that I need to add a teaspoon or so of water to bring the dough to the proper consistency. Then I do walk away for a few hours, and return when the golden, fragrant loaf is ready to slide out onto the cooling rack.
---
Follow Stories Like This
Get the Monitor stories you care about delivered to your inbox.