Cranberry orange muffins
(Read article summary)
Cranberry orange muffins are great fuel to get through finals week.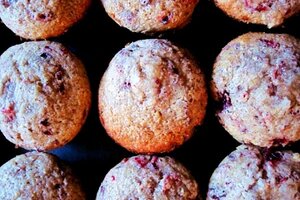 nestMeg
It's finals week here, so our brains deserve a good breakfast. And a good afternoon snack. And a good dessert.
Fortunately, this recipe fulfills of all those needs. Not too much sugar, a nice bite of cranberry, and the smell of orange zest on your hands all day long.
Actually, let's be honest. I only have one more final, and it's not the kind to fret over. Thus, I plan on spending my days using up my stockpile of butter and flour. So, really, this recipe fulfills that need.
I juiced fresh oranges, which is way time consuming since I don't have a citrus juicer. (Mom, Dad, I know you're already buying me a fruit-related Christmas gift, but if you need more ideas….)
I used a combination of walnuts and almonds. Also, the three oranges I juiced still didn't render enough orange juice, so I added a bit of milk, as well.
I plan to individually wrap and freeze most of them before they all find a way into my stomach by tomorrow.
Cranberry Orange Muffins
2 teaspoons grated orange rind
3/4 cup orange juice
1/4 cup canola oil
1 large egg, lightly beaten
2 cups all-purpose flour (about 9 ounces)
1 cup sugar (set aside one tablespoon for topping)
1-1/2 teaspoons baking powder
1 teaspoon salt
1/2 teaspoon baking soda
2 cups coarsely chopped cranberries
1/3 cup chopped walnuts, toasted
---