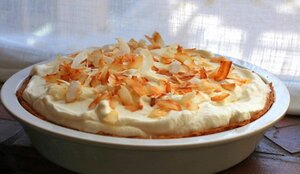 The Runaway Spoon
I have a funny relationship with coconut. I don't buy coconut candy bars, I leave the coconut balls behind in the assorted chocolate box, would order caramel over coconut cake and don't do coconut rum drinks. But when I happen to be served a coconut sweet, I always love it, and wonder why I don't eat, and bake with, coconut more often.
Recently, my Dad requested a coconut cream pie for his birthday. He's my Daddy, so of course, I agreed immediately and set out to create one. I had a feeling what he pictured in his mind was the old-school diner type.
Creamy, pudding like filling topped by a mound of cream. But trolling through the old community cookbooks, most of the cream pie recipes I found used imitation coconut extract to flavor the filling, and that's just not my style. I wanted a real punch of coconut flavor, and some texture too, but still with the soft creamy top. Coconut milk in the filling with sweet, chewy shredded coconut hit the mark, and the cloud of sweetened cream makes it special.
I was a little nervous serving this to my Dad, because I thought maybe it's not what he really he had in mind. But the whole family licked their plates and it was declared a marvelous birthday.
Coconut Cloud Pie
Serves 8
1 unbaked 9-inch pie crust (pre-made or do it yourself)
1 cup milk
1/2 cup unsweetened coconut milk, well shaken
1 cup sugar
2 eggs, lightly beaten
3 Tablespoons all-purpose flour
1 Tablespoon butter, melted
1/2 teaspoon vanilla extract
3/4 cup sweetened flaked coconut
For the Topping:
2 cups heavy whipping cream
1/2 teaspoon vanilla extract
1/4 cup powdered sugar (or more to taste)
Preheat the oven to 350 degrees F. Line a pie plate with the pie pastry.
---