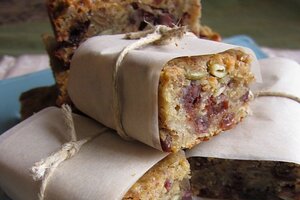 Beyond The Peel
The Ultimate Protein Bar! It sounds so conceited doesn't it? I thought so too, but these are really good. I can't figure out why. I didn't even start with a recipe. I just started chucking things into a bowl and baked it. These are the best ones we've made yet, not solely for the flavor, though they are really tasty, but more because of the texture. The result is a ridiculously moist yet dense protein bar. I believe this recipe will be the base for many other concoctions and flavors in the future.

The whole thing started because I was making Pavlova and needed 4 egg whites. Also I wanted to stuff it with cream and fruit but wanted to try it with a dairy free cream, such as whipped coconut cream. I read about coconut cream recently but had never tried it. Oh my word, it's delicious. As the queen of never wanting to waste anything, I wanted to figure out a way to use the rest of the coconut water and the 4 egg yolks that I was left with. At the same time my husband reached for the last Peanut Butter Oatmeal Protein Bar, and that's when the concocting began.

I chose to use sunflower seed butter for two reasons. First, I like to change the flavor of our bars every time we make a batch so we don't get bored with them. Changing the texture helps, too. Second, the price on sunflower seed butter is half the price of almond butter! I like that.
Sunflower butter oatmeal raisin protein bars
---