Asparagus recipe: Asparagus with sauce maltaise
(Read article summary)
Asparagus sauce maltaise is a version of the classic Hollandaise sauce.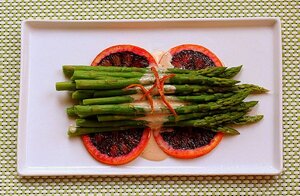 The Runaway Spoon
Spring is finally here, and one of the first green vegetables to appear is asparagus. Those tender little stems signal the end of the frosty winter and the hope of more good produce to come. Treating the first spears simply seems like the right thing to do, after months of braises and stews and root vegetables, what could be more refreshing than simply cooked green goodness.
Sauce Maltaise is a version of the classic Hollandaise, made with orange juice rather than strictly lemon. Traditionally, its blood oranges, and I find that my upscale market usually has the last of the blood oranges and the first of the asparagus at the same time. If you can't find blood oranges, a regular juicy orange will do fine. The sauce takes on a lovely pinkish tint perfect for spring celebrations, and is a great compliment to the bright green asparagus.
Hollandaise has always been a bit of a trick, and despite multiple readings of Julia Child, several classes and many failed attempts, I find the traditional method a bit beyond me. Too hit or miss really. Sometimes I get it, and feel triumphant, but more often I don't and vow never to make Hollandaise again. But this blender method is pretty idiot proof and produces a thick, creamy sauce in minutes. Just make sure your butter is hot and not at all browned. And use the best ingredients for this, splurge on some high-fat European-style butter and farm-fresh eggs if you can. Those bright yellow yolks give such amazing flavor and beautiful color.
As I said, I like to treat the asparagus simply so I give the instructions for a quick boil, but feel free to steam the spears, or even grill them – whatever you prefer. And the Sauce Maltaise can be used in any way you use Hollandaise – in eggs Benedict or on other vegetables.
---