Meatless Monday: Moroccan lentil salad
(Read article summary)
A lentil salad with the bright flavors of spicy peppers and lime.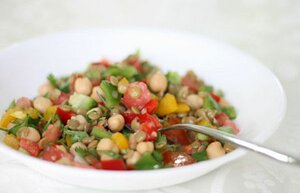 Novel Eats
I don't like salad, or perhaps it's better said that I generally do not like salad. Sometimes the greens are too bitter or the tomatoes not how I like them (I prefer whole cherry or grape tomatoes, not diced tomatoes) or the dressing isn't to my liking (no honey – or agave – mustard for me, thanks). But I do like it more when I can add more interesting flavors and textures like dill or kidney beans. Still, I would rather have potatoes or pasta over salad.
But I have decided that I am going to make an effort and try to make salads I can enjoy and maybe even love. I have added, for the first time, a category for Salad on Novel Eats, and I'm going to start filling it with recipes I try, and I'll be honest if I like them or not.
This first salad is a result of a search I did the other day for lentil salad recipes. This one caught my eye because of the addition of spicy peppers and lime, and I actually like it pretty well. I do think it works better as a side rather than on its own, but its flavors are fresh and the colors beautiful. A good start to my self-imposed salad challenge.
Moroccan Lentil Salad
The original recipe can be found on Allrecipes.com
1/2 cup dry lentils
1-1/2 cups water
1 cup pre-cooked or 1 15-ounce can garbanzo beans, drained and rinsed
2 tomatoes, chopped
4 green onions, chopped
2 hot green chile peppers, seeded and minced
1 green bell pepper, seeded and chopped
1/2 yellow bell pepper, seeded and chopped
1 red bell pepper, seeded and chopped
1 lime, juiced
1/4 cup fresh cilantro, chopped
Salt to taste
2 tablespoons olive oil
Sort, rinse and then place lentils and water in a small to medium-sized pot. Bring water to boil, reduce to simmer. Cook for 30 minutes or until tender. Once it has finished cooking, drain and rinse with cold water.
In a medium to large-sized mixing bowl start combining your ingredients as you prepare them.
---