Cinco de Mayo recipe: Mexican chocolate cake
(Read article summary)
Cinco de Mayo recipe: Mexican chocolate cake is even more delicious topped with a dollop of coffee cream. Of course, you don't have to just make it on Cinco de Mayo. It's good all year round.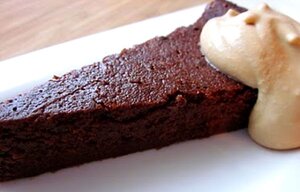 Beyond the Peel
I'm always looking for fun chocolate recipes since that is one of our favorite weaknesses. After a visit to a local Mexican restaurant, I was inspired to make a Mexican Chocolate Cake. Tita's is not your traditional style Mexican restaurant and they don't try to be. They offer a fun twist on some favorites and most dishes are on the lighter side. If you have a few minutes I encourage you to take a minute to click on that link and check out the "about" page. Needless to say, I'm happy that it's only a short drive away.

I had a brilliant tostada topped with black beans, feta, grated carrots, and beets. Very fresh and light yet deceptively filling. My husband raved about the Mexican Chocolate Brownie. The best way to describe the flavor is to think of a bun with an overload of brown sugar and cinnamon mixed with a dense, deep, dark chocolate.

I envisioned something a little different. Maybe a little less crunch from the brown sugar, something smooth and decadent on the tongue. I wanted to replicate the flavor, but change the texture – a dessert that was just as dense, packed with flavor, but lighter. We've made a few versions of this dessert but this one was the most surprising. A keeper! Light, rich, and almost fluffy. Almost.
This is so easy to make – and delicious!
Mexican Chocolate Cake
1 cup honey
6 tablespoons cocoa
3 eggs lightly beaten
1 tablespoon vanilla extract
1/2 cup melted butter
1/4 cup flour
2 tablespoons cinnamon
1/2 cup of plain Greek-style yogurt
1/4 teaspoon ground chipotle peppers (cayenne will work, too)
Pinch of salt
Preheat oven to 350 degrees F.
Grease the sides and bottom of a 9-inch spring form pan (a pie tin would work equally as well).
---