Perfectly simply lemon bars
(Read article summary)
Lemon bars are easy to make a perfect thing to bring to picnics and backyard parties.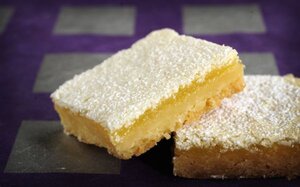 ZUMA Press/Newscom
To me the best lemon bar must consist of a tender, buttery crust and a soft, intensely lemony filling. One other thing … it must be simple to make. In this week's USA Weekend video, we demonstrate our perfect recipe for these irresistible sweet treats.
With picnics and backyard parties coming up, keep this recipe in your back pocket. It's a simple and delicious dessert to serve up at your place or pack and bring to a friend's.
To see a video of Pam making lemon bars, click here.
Perfectly Simple Lemon Bars
Makes 16 small bars
1 cup all-purpose flour
1/8 teaspoon salt
1/2 cup confectioner's sugar
1 stick (8 tablespoons) butter, melted but not hot
2 large eggs
3/4 cup sugar
1-1/2 tablespoons all-purpose flour
6 tablespoons juice and 2 teaspoon finely grated zest from 1 to 2 lemons
Adjust oven rack to lower-middle position and heat oven to 325 degrees F.
Spray an 8- by 8-inch baking pan with vegetable cooking spray. Fit an 8-inch by 16-inch piece of heavy-duty foil across pan bottom and up the 2 sides as foil overhangs to pull bars from the pan. Spray foil with vegetable cooking spray.
---