The hamburger as a work of art
(Read article summary)
Forget ordinary ketchup and mustard for your hamburger. The next time you grill, try roasted aioli and blue cheese for an adventure in flavors.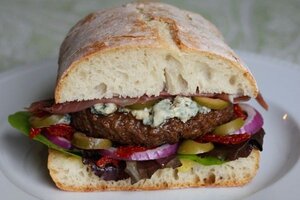 The Gourmand Mom
Several weeks ago, I ran across a website for the Cheese and Burger Society, a site designed to showcase delicious Wisconsin cheeses. My mouth watered as I flipped through their slideshow of delicious cheese-laden burgers. I made the immediate decision that I would gradually cook my way through each of the burgers on that site. With perfect grilling season now upon us, it is an ideal time to be embarking on a burger adventure. A few weeks ago, I cooked my version of The Miss Daisy, a beef patty on sesame semolina with apple butter and brie. Tonight, I'll be making my version of The Mona Lisa (#20 in the slideshow), featuring a beef patty on ciabatta, with gorgonzola cheese, sun-dried tomatoes, olives, prosciutto, and a roasted garlic aioli.
An aioli (pronounced ay-OH-lee or eye-OH-lee) is a garlic sauce, similar to a mayonnaise, which is traditionally made with raw egg yolks, olive oil and crushed garlic. To be honest, I'm not a big fan of mayonnaise. Something about the texture of it and the feel of it in my mouth gives me chills. But, it really does seem to belong on this burger. I love the flavor combination of sweet roasted garlic with gorgonzola, so I decided to use a roasted garlic aioli in my version of The Mona Lisa burger.
---