Meatless Monday: Avocado and corn salad
(Read article summary)
A spring salad with Southwestern flavors and a zesty lime dressing.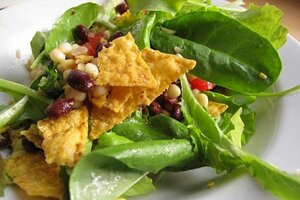 In Praise of Leftovers
Editor's note: This is an excerpt from a post that Sarah originally posted on June 4, 2009, on her blog but we spotted it in her recipe archives and thought it was a perfect use for fresh spring greens. Salad is timeless, after all! You can read her full post here.
My lettuces are coming up. Every gardener blathers on and on about how satisfying this is. I can't help myself. It's satisfying. I'm a new gardener – this is my fourth year with a veggie patch, and I'm not the most attentive gardener in the world. But I'm doing it!. And I had some corn, avocados, and tomatoes from Young's (the Asian market up the street from my house).
Avocado and Corn Salad
Serves four. You could use spinach or less perfect lettuces than mine (have to rub it in) and it would still be delicious.
4 ears corn or 1-1/2 cup frozen corn
1 15-ounce can black beans, rinsed and drained
2 avocados, diced
4 big handfuls washed greens
2 large tomatoes or 4 roma tomatoes, diced
Handful washed and chopped cilantro
Tortilla chips, coarsely crumbled
For dressing:
1 minced garlic clove
1 teaspoon ground cumin
Plenty of salt and pepper
Juice of 1 lime
4 tablespoons canola oil
4 tablespoons olive oil
If you're cooking ears of corn, this is how I do it to make sure it stays crisp: Drop the ears in a big pot of water, and bring to a boil. Once it boils, turn the heat off, cover the pot, and let the corn sit for 10 minutes. Pull it out, let it cool, and then cut it off the cob. If you're using frozen corn, just cook to package directions.
---