Chilled soup: green garlic vichyssoise
(Read article summary)
Green garlic is a seasonal treat and combines with leeks and potatoes for a delicious chilled soup.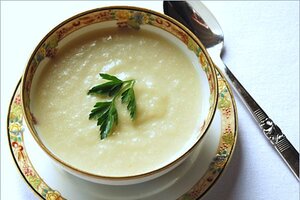 Blue Kitchen
When it comes to large, hardworking families with big personalities, Allium outdoes even the Baldwin brothers. More savory recipes than not put at least one of member of the Allium family to work – onions (yellow, Bermuda, pearl, etc.), leeks, scallions, chives, garlic, and shallots. And then there are the seasonal workers – ramps, scapes and the star of last weekend's Logan Square Farmers Market, green garlic.
Green garlic is just what the name implies – garlic picked early, before the bulbs have formed into cloves. Originally the byproduct of farmers thinning their garlic crops, green garlic has come into its own as a seasonal treat found almost exclusively at farmers markets and roadside stands. They look like overgrown scallions and have a more delicate taste than mature garlic. With Midwest temperatures suddenly in the 90s, that mild garlicky flavor was perfect for this chilled seasonal soup.
Green Garlic Vichyssoise is a cool, creamy, light first course with a subtle, satisfyingly garlicky finish. The chopped parsley garnish provides a nice fresh balance to the garlic.
Green Garlic Vichyssoise
Serves 4 as a first course
1 cup chopped green garlic, white and pale green parts, 6 to 8 stalks
1 cup sliced leeks, white and pale green parts, about 1 leek
2 cups peeled, large-diced potatoes (I used Yukon Gold)
1-1/2 tablespoons unsalted butter
1-1/2 cups low sodium chicken broth (or vegetable broth)
Water
3/4 cup half & half or cream
Salt
Chopped parsley for garnish
---