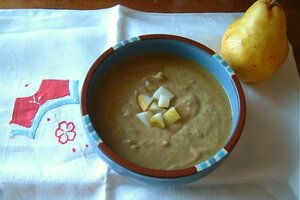 Kitchen Report
The first words I heard one morning this week were "… 2 inches of snow followed by sleet followed by freezing rain."
A wintry mix. Again. We are only one boot into January and we've already been walloped with two blizzards and now rainwater is flooding icy sidewalks and curbsides of Boston. But I haven't succumbed to the winter blues – yet. I mean, at least the weather outside is interesting even if it has been a bit frightful lately. Commuting to work has come to mean hiking through driving winds wearing snowpants and ski goggles. But it's pretty in a snowy kind of way. Last week we had sugar-frosted trees before a deep freeze turned them to ice. For a few days the sledding hill launched thrill-seekers over 20 m.p.h.
In the pause between storms my friend Jessica came over for a lunch that I loaded with winter greens. We had celery pear bisque and a warm Swiss chard salad dressed in a bacon vinaigrette with candied pecans and dried cranberries topped with a poached egg. I've been craving greens since the holiday rush ended. Our photo editor here at the Monitor suggested I try making this bisque.
I'm glad I did. The sweetness of the pear is a surprise taste at the end. Somehow it offers a gentleness in contrast to the confusing edge of snow, ice, and sleet swirling outside and the colors add warmth to the cool palette of winter. And an added bonus: no leftover celery to go limp in the crisper.
Celery pear bisque
This could easily be served chilled as a summer soup. This recipe is based on a version that first appeared in Bon Appetit.
Serves 6
---